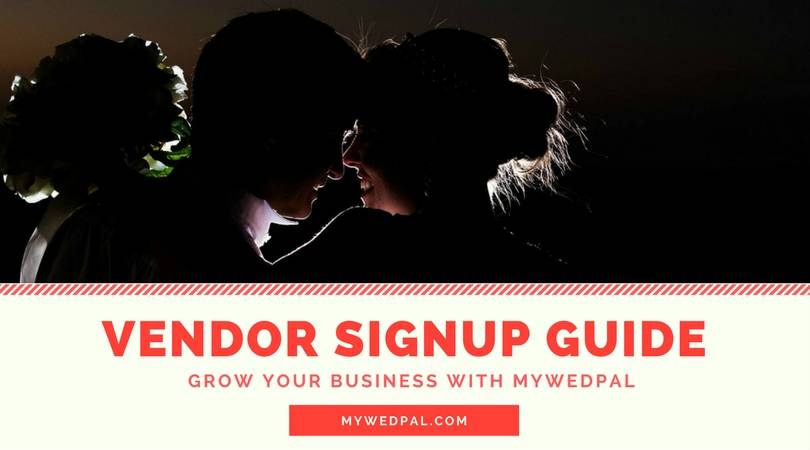 In this blog post, we provide an easy guide for vendors who want to register their business with mywedpal.com. Also we will touch upon how to make your profile attractive.
Step 1 - Register Your Business Details :
Click on Vendor Signup link and enter your name, email address, password, business name, business category (like photographer, makeup artist), country, city, mobile number and human verification code. Click on "Create An Account" button to register your business.
Step 2 - Verify Email:
As soon as you register, we send you an email with verification link. Please check your email inbox or spam folder for it. Open the email and click on the verification link. A browser window will open stating your status of the verification. Now you can login to your account to complete your profile details, contact details and image/video gallery.
Step 3 - Complete Your Profile :
Vendor dashboard is shown to you with summary of your profile. The below image is shown as an example.

Let me explain the purpose of each numbers. Since you have not make your business "Live" yet, a warning message is displayed at the bottom on pink color.
#1 - Click the "Edit" button to edit your business details like starting price, about your business, address location, contact details, website and social media information. Enter all details correctly and Save the Information. After you update your business details, you need to upload a nice banner picture. Click the next button to select the services that you offer to your customers. Next is complete your profile information with few question and answers so that your customers knows something about you before he/she contacts you.
You can also update your banner picture by clicking on the business image as shown in the above picture.
#2 - Click the "View" button to see how your profile looks like to others. This is very important as your profile should look attractive to your customers.
#3 - Click on the "Gallery" button to upload images to showcase your work to customers. You Can also upload YouTube or Vimeo videos to your video gallery.
#4 - "Bids" button takes you to your bid responses page. Here you can see your response to various bids.
#5 - By clicking on the "Analytics" button you will know how your business is performing. How many people have viewed your profile so far, how many like you have got, how many people shortlisted you, number of people reviewed and many more.
#6 - "View Plan" button takes you to your current plan subscription details page. You can review the price and features of our different plan to get the maximum benefits based on your need.
#7 - Finally make your business "Live" by clicking on this button. This is very important as your business is not visible to others until you do not make your business profile Live. When you business profile is inactive, other features like participating in bidding and getting leads from MyWedPal team is not possible.
Thank you for signup and we look forward to grow together!
Leave a Comment